Choosing & Installing Fire & Smoke Alarm Systems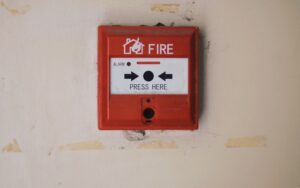 Seeing as smoke detectors play such an important role, they are legally required in most US homes. In the event of a fire, these fire-protection devices will detect and warn you of the presence of smoke, potentially saving your life. Firefighters have reported that they are called to over 600,000 fires every year, resulting in over 800 deaths and over 17,000 injuries.
With the proper smoke and fire alarm, you and your family will be notified quickly, giving them enough time to escape and evacuate the house. You should contact the fire department and the restoration company, such as 911 Restoration, as soon as possible, before the fire damage becomes too severe.
That is why it is critical to select the best and most appropriate one for your home. If you've never bought a fire and smoke alarm before, here are some guidelines to help you choose the best alarm available in the market.
What Type of Smoke and Fire Alarms Are Available?
Commonly used Smoke and Fire Alarms
Photoelectric Smoke and Fire Detector
This device detects larger particles of smoldering flames. However, this will not be able to detect rapidly spreading flames. It is also known to falsely detect smoke, so keep it away from the kitchen and bathrooms.
Ionization Smoke and Fire Detector
Unlike photoelectric smoke detectors, these can detect small particles of smoke as well as rapidly spreading fires. These devices, however, can be activated in kitchens if food is accidentally burned or in bathrooms if steam is present. That is why placing them near those areas is not a good idea.
Dual-Sensor Smoke and Fire Alarm
A hybrid of the two detectors mentioned above. They can detect all types of fires and provide the best protection against unexpected fires. Nonetheless, you must ensure no carbon monoxide leaks in your home, which brings us to the more modern option of smoke alarms.
Heat Alarms
These alarms detect an increase in temperature from fire. However, they are insensitive to detecting smoke. That is what makes it a good option for kitchens. However, they only cover a small room area, so you need more than one if you plan to install it in a larger area.
Modern Smoke Detector
A more expensive alternative. However, these smoke alarms detect both smoke and carbon monoxide. That is why it provides more protection than other smoke detectors and can prevent both potentially dangerous situations from occurring.
The Positioning of Smoke and Fire Alarms Is Critical
Before you buy a smoke detector, figure out where you're going to install it. The positioning of such devices is critical. Placing them too far away from potential fire hazards will delay the alarm's activation, putting you and your family in danger.
It is recommended that one be installed on each floor of the house, including inside bedrooms, hallways, the kitchen (but not directly above the stove), the garage, and the living areas. The more smoke detectors there are, the sooner the alarm will sound, giving you more time to escape.
Which Smoke Alarm Should I Choose for Each Area?
Choosing the right alarm for each area can be tricky. However, this step is important. Placing the wrong alarm in the wrong area can lead to a lot of false alarms. That is why we have listed a few to make choosing easier for you;
For the kitchen and garage, go for heat alarms as they detect fire rather than smoke. Steam and smoke are common in the kitchen, and installing ionization smoke alarms can result in many false alarms around the house.
For landings: Ionization smoke alarms or Dual-Sensor Smoke and Fire Alarm work best.
Bedrooms, living rooms, and hallway: Photoelectric Smoke and Fire Detector, Ionization Smoke and Fire Detector and Dual-Sensor Smoke and Fire Alarm
Looking After Your Smoke Alarm
Smoke alarms do not require a lot of maintenance, and it is something you can do on your own as well. All you need to do is take a few minutes out of your time every six months of a year to clean it.
Maintenance will ensure that your alarm is working properly and will go off in case of a fire emergency. Just by cleaning and maintaining the smoke and fire alarm, you could save your life and the lives of your family. You can maintain it by;
Test your smoke alarm when the clocks are changed and vacuum it gently using a soft brush to keep it dust-free.
Once a year, check the battery and change it if it needs to be changed. Usually, it's a ten-year alarm.
Invest in a new system after ten years, because the old one would probably stop working.
In the Event of Fire Damage
So, now that you're more aware of the device you're looking for, don't put it off any longer. Installing smoke detectors is critical for the safety of you, your family, and your property. Repairing after a fire can be costly and time-consuming, but if you contact a reputable restoration company in Bellevue in an emergency, they'll make the process seem simple.
911 Restoration has professional workers who will use their knowledge and professional equipment to restore your home after a fire. For their services, call (425) 247-3836 right away!