DIY Fire Restoration Tips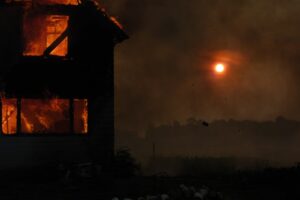 DIY fire restoration is one of the most challenging DIY jobs to carry out. There can be burning embers that can restart the fire, or there can be a greater extent of fire damage than you can comprehend. However, if you are confident that the fire damage was minor, you can begin the fire restoration process yourself.
Here are some tips that can help you with the fire restoration process:
Inspect the Damage
Even if the fire damage seems minor, you still need to take all the precautionary measures. Wear proper protective gear before entering the damaged area. If you don't have the right equipment, wear at least a couple of layers of covered clothing to cover the entire body and safety goggles over your eyes.
Don't touch anything with bare hands, either. Even if you have decided to carry out the fire restoration yourself, it shouldn't have to come with a health risk.
Take proper care to put out any remaining fire or burning embers that you find. You can also call the fire department to visit your property and double-check the fire for you.
Air it Out
Fire leaves a strong odor. Getting rid of this odor is as essential as the rest of the fire restoration process. Open the windows and doors to let outside air ventilate your property, especially the burned area.
Depending on how long the fire burned and the damage it caused, it might take a few hours to a few days to get rid of the burning odor. However, only air out and ventilate the burned area when you are wearing protective clothing and when you can keep doors to other parts of the floor closed.
Remove All the Soot
Before you treat the burned goods, removing the soot left behind by fire is essential. Almost any surface in your home exposed to fire is expected to have a layer of soot over it. It is also why you need to cover yourself up adequately while airing our the property. The natural air you bring in can move and spread the soot over other areas.
Soot can be as dangerous for human health as the fire itself. It can be absorbed through the skin or can get inside through breathing open organs such as the eyes, ears, and mouth. Soot particles can stick inside the organs and cause difficulty inflow of air, food, or other bodily fluids.
When inhaled through the mouth or nose, it can cause breathing problems that lead to asthma and bronchitis. Through the lungs, it can reach the heart and cause coronary heart diseases. When absorbed through other bodily channels or ingested with food, it can cause cancer of the organs it comes in contact with.
Therefore, you must remove all soot as soon as possible and be very careful while removing it. Since they are so small, brushing away soot particles may spread them even further. The best way to get rid of them is to vacuum the burned area and its surrounding area repeatedly until you are sure that no soot particles remain. If soot causes stains on your wooden furnishings or other surfaces of your home, dab the soot stain with talcum powder to dry it out. Vacuum over the dried out soot stain to clean it.
Clean Up Smoke Damage
Smoke damage is different from soot as it is invisible. However, it can be equally dangerous. If it goes unremoved and is inhaled over more extended periods, it can cause similar health complications as inhaling soot.
But you can easily clean smoke with homemade fire restoration techniques. Grab a bucket and fill it with warm water. Add any soap to this water and mix it thoroughly. Take a clean washcloth or a cotton towel and wipe all surfaces that could have been affected by smoke with this washcloth or towel dipped in warm soapy water.
Don't dump a used towel in the bucket or use the same cloth for all the surfaces. Dump the used cloth in a trash bag to be washed with all the clothes together later on. You can wipe furniture, surfaces, floors, walls, and even ceilings through this method.
Paint and Polish
Once all the surfaces have been wiped with soapy water, all you will need to do is paint and polish the surfaces as necessary. Use a primer to fill in any cracks the fire may have caused. Apply only a thin coat of paint at a time and repaint as needed.
Last but not least, don't forget to wash the washcloths and other fabrics around the house separately and thoroughly. Don't mix them with regular laundry and run the laundry empty at least once, washing all the fabrics that have come in contact with the fire one way or the other.
If at any point you find the fire damage to be too much to restore on your own, don't hesitate to call a professional restoration service. Many restoration services, such as the 911 Restoration of Bellevue, provide complete fire restoration and mitigation services for personal and commercial properties.