Why Refer 911 Restoration as a Friend and an Insurer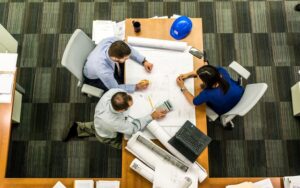 Home restoration is a unique industry because the services go beyond business and aim at offering the best possible solutions for their problems. Because house restoration services help repair and restore people's homes after water, fire, or disaster damages, people are also particular about choosing who to work with.
What Home Restoration Businesses are Responsible For
People only want to work with trustworthy businesses for their home restorations. They want to ensure the business understands the emotional significance of the home and how much it means for them to see it fully repaired.
The reason 911 Restoration is the best for the job in Bellevue is because we understand the technical, operational, and emotional aspects of the field. And this understanding helps us stand out among all our competitors.
Why 911 Restoration Deserves Your Trust
We understand that trust is earned and words can only do so much. That is why we want you to know about the steps we take to ensure we only provide our clients with the best possible service.
1.    Quick Response Time
911 Restoration teams promise response time of 45 minutes 24/7 and always deliver on it. Home restoration services are time sensitive and we treat them as such. After arriving on site, we discuss further details with the client and start the assessment process.
In case there is an emergency, we begin addressing the more pressing problems right away to control the damage until the team gets the chance to study the factors and design a solution.
2.    Quality Certification
911 Restoration technicians have IICRC certification. This means they have completed the necessary training and passed regulatory assessments that assess their knowledge and skills in the field.
They are aware of the latest rules and regulations, and you can rest assured that they will keep the right SOPs in mind when making decisions.
3.    Experience and Expertise
We maintain our quality standards by hiring employees with the right expertise and extensive experience in home restoration service or related fields. They leverage their past knowledge and existing facilities to provide clients with detailed assessments of the project and planning.
4.    Genuine Involvement
Client experience is one of the most important parts of our service offering and a major reason for our current success. Our teams understand the sentimentality around homes and ensure they treat your property with the same care and caution as you would yourself.
We enjoy seeing the happiness on client faces when they see their homes after restoration and this happiness is only possible if we give more than 100% of our efforts.
5.    Positive Client Experiences and Testimonials
We let our work speak for us. Our former clients have always been satisfied with our performance and their positive feedback and testimonials prove our merit. There is nothing better than a happy customer who spreads words about their great experience with us.
The above mentioned attitudes towards our jobs is why you should refer us to your friend or an insurer.  They prove that we are knowledgeable, reliable, and committed to the job, and these traits make us trustworthy business partners for home restoration and repair.
911 Restoration Services
In addition to our trustworthiness and expertise, our range of services is another reason why we are the right home restoration business for your friend who is facing damage crisis.
The 911 team is skilled at water damage restoration and utilize their expertise and regulatory knowledge to study the water damage, assess its impact on the rest of the structure, and draft a water damage restoration plan. Our services include, but are not limited to:
Crawl space cleanup
Flooded basement cleanup
Water extraction
Structural drying and dehumidifying
Repairs to structural damage
Ceiling repair from water damage
Sewage restoration
Drywall repair
We ensure we remove every trace of water damage and reconstruct where necessary to make your house safe again.
Mold formation is a natural consequence of water damage and go on to create additional damage on its own. When left unchecked, mold formations become infestations and spread inside the house. They weaken the house structure and can have severe negative effects on your health.
Fire damage is one of the worst types of damages because it often destroys irreplaceable memories in its wake. It is understandably devastating for clients which is why we do everything we can to restore as much of their belongings as possible and reconstruct the structure to make it livable again.
Bellevue is relatively safe from storms but holds a higher than average chance of earthquakes. 911 Restoration teams have worked for years in this area and are experts at handling home restoration services for home affected by natural disasters.
Sanitization was always important but the COVID-19 pandemic has made it necessary to follow hygiene principles to the fullest. Whether you want to disinfect your home or your commercial building, we are the best home repair and restoration business for the job.
A disinfected office is not only safe for you, but is also safe for your employees, clients, and working partners.
6.    Sewage Clean-up
Sewage build-up is both unhygienic, nauseating, and harmful. It blocks water flow, making the water seep inside the structure and weakening it. It also creates a horrible odor around your house which is difficult to remove.
7.    Commercial Restoration
Commercial restoration is dedicated to the restoration and repair services for commercial buildings. This type of cleanup services involves managing water dame restoration, fire damage restoration, mold removal etc.
In a Nutshell
Overall, 911 Restoration provides quality service efficiently and with empathy, making us the perfect home restoration services for our clients and business partners alike.
We hope you enjoyed going through this blog. If you have any queries, please contact us. Someone from our team will return your call as soon as possible and answer your queries.