Mold Removal in King County
Property owners in King County can end up facing serious problems if a mold infestation spreads through their home or business. Mold can damage drywall, flooring, and your possessions. Inhaling mold spores can also negatively impact your health.
The mold removal pros at 911 Restoration of Bellevue can help you handle residential or commercial mold cleanup. We can offer you a free visual mold inspection for property owners only if you suspect you are dealing with a mold infestation in Bellevue, Kirkland, or Redmond.
You can call us 24/7/365 and our mold remediation techs can reach your property within 45 minutes. Let us start focusing on mold decontamination and cleanup right now. We can help you get a Fresh Start after a mold infestation in King County and surrounding areas.
Get Full Mold Removal Services in Bellevue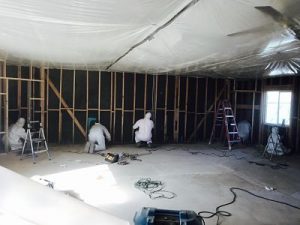 Mold remediation does not have to be a stressful experience. You can secure your peace of mind by contacting a professional mold cleanup company to ensure the process goes smoothly. 911 Restoration of Bellevue handles mold removal by:
Containing Mold Growth and Stopping the Spread of Spores

Using Air Filters to Remove Mold Spores

Getting Infested Materials Out of Your Home or Business

Focusing on Your Health with Mold Decontamination

Handling Mold Cleanup for All Infested Areas
We know that mold often brings with it foul odors and discoloration for walls and floors. Our mold remediation techs can take care of odor removal and they'll address any unsightly blemishes to return your property to better-than-new condition.
Getting professional help on your side immediately after you notice a mold infestation can ensure that your property is fully restored. Get help from IICRC certified technicians by calling 911 Restoration of Bellevue today for a mold inspection.
Let Us Handle Mold Cleanup for You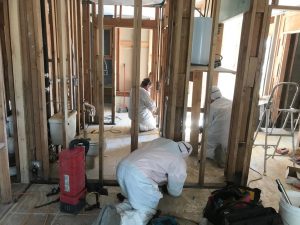 Mold is a small fungus that can cause big problems in Bellevue, Kirkland, and Redmond. You can count on the licensed, bonded, and insured techs at 911 Restoration of Bellevue to resolve your mold problem quickly and correctly the first time.
We utilize specialized techniques to take care of mold removal and mold decontamination in King County. Our techs even work with a 3rd party laboratory to test mold after your mold inspection. Our extensive experience in mold remediation allows us to handle any mold cleanup job, no matter how big or how small.
The techs at 911 Restoration of Bellevue can even help ensure you don't have to deal with another mold infestation in the future. We can use infrared scanners to check for moisture in your home or business that would allow mold to thrive.
Handling any signs of water damage by drying and dehumidifying your property can reduce the odds that you'll ever face a mold infestation again. Let us bring your property back to completely pristine condition today.
Servicing the cities of Baring, Bellevue, Black Diamond, Bothell, Carnation, Duvall, Enumclaw, Fall City, Hobart, Issaquah, Kirkland, King County, Maple Valley, Medina, Mercer Island, North Bend, Pacific, Preston, Ravensdale, Redmond, Sammamish, Skykomish, Snoqualmie, Woodinville… and surrounding areas.