Water Damage Restoration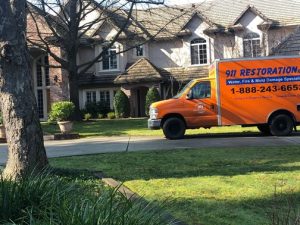 Winter storms in Bellevue can lead to the need for water damage restoration services. For example, snow can lead to flooding, roof cave-ins, structural damage or pipe bursts. All of which can cause significant damage to a home or property and require water damage restoration services. When faced with a water damage situation, call the team at 911 Restoration of Bellevue.
When you call our water damage restoration team, rest assured knowing our services and staff are licensed, bonded and insured. Plus, due to our experience and undergoing the highest level of training in the industry, our team is able to implement any level of remediation service needed.
Following the initial call, the water damage restoration experts in Bellevue will arrive on the property within 45 minutes. We will begin with a free visual inspection for property owners only in order to assess the damage. After the property has been inspected, the highly trained IICRC technicians will determine what water damage restoration services are needed.
You can count on our water damage restoration experts to remediate issues that include:
     Frozen pipes
     Burst pipes
     Ceiling leaks and repairs
     Flooded basements
     Crawl space cleanup
     And more
Having your home or commercial property and valuables damaged can take a toll on you mentally. Our skilled water damage restoration team in Bellevue is available during your time of need. The team of highly trained technicians will keep you informed throughout the entire restoration process and answer any questions or concerns that may arise. Initially, we are hired to restore the property. However, our goal is to restore your peace of mind as well.
When faced with property damage, call the dependable team of water damage restoration experts at 911 Restoration of Bellevue.
The Potential Dangers of Water Damage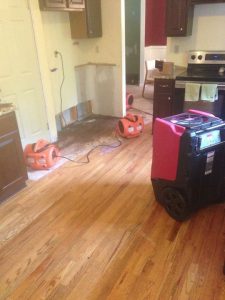 When water invades a home or commercial property, it can cause serious issues. So, while there may be other household problems you put on hold, water damage is not once which should be procrastinated.
One example of water damage that should receive attention immediately would be a roof leak. Roof leaks can be caused by wind or storm damage, lack of maintenance or improper installation. Whatever the cause may be, a leaking roof calls for water damage restoration services. By allowing the damage to persist, water can make its way from the attic all the way to the foundation of the home or property. Which can cause further damage and will require water damage restoration services that are higher priced. Ceiling leaks can also lead to water damage that includes:
     Water damage to the items stored in your attic. It can also affect ceiling paint and ceiling plaster may bubble and expand. There is also the potential of damage being caused to lights and ceiling fans.
     Without receiving proper water damage restoration, ceiling leaks can pose the threat of a fire due to shorted wires.
     A severe leak can cause water to puddle on the floor. While this may not seem like a big deal, if someone were to slip and fall on your property it could lead to serious injury and a potential lawsuit.
     One of the most important reasons to hire our team of water damage restoration experts is due to the structural damage a ceiling leak can cause. Wall framing, ceiling joists and exterior trim can all fall victim to water damage. Plus, chronic leaks can lead to wood deterioration or rotted roof framing.
Despite the cause behind water damage, you can count on 911 Restoration to provide peace of mind and completely restore your property! Call our team of water damage restoration experts to begin your fresh start!
Year Round Water Damage Restoration and Mold Removal Services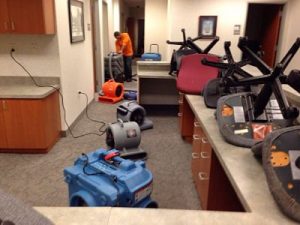 Another serious issue water can cause is the need for mold removal. Mold spores thrive on moisture. Therefore, when water damage sits for an extended amount of time it can lead to a mold or fungal infestation. If you suspect your home or property is in need of mold removal, contact the team of water damage restoration experts immediately.
Water damage alone is stressful. By allowing water to manifest, you begin inviting in other issues like mold. Mold spores can invade your property in less than 48 hours by traveling through the ventilation system. It causes a distinct smell and could pose serious health concerns. Your health is our number one concern, therefore you can count on the mold removal experts at 911 Restoration to provide complete restoration of the damage.
The IICRC highly trained mold removal technicians are highly trained and able to handle infestations of any size. Our team knows that when it comes to mold removal, it is important to act quickly. Following mold removal, the team will begin comprehensive water damage restoration and drying techniques to ensure there is no potential for damage in the future. We use the latest mold removal technology in order to get the home or property restored in little time.
When it comes to mold, 911 mold Restoration provides mold removal techniques that can remediate any issue. Call our team today to receive water damage restoration and give your property a fresh start!
Serving the communities of Bellevue, Bothell, Enumclaw, Springs, Issaquah, Kenmore, Kirkland, King County, Maple Valley, Mercer Island, North Bend, Redmond, Sammamish, Skykomish, Woodinville and surrounding areas.