Water Damage and Mold Removal in Maple Valley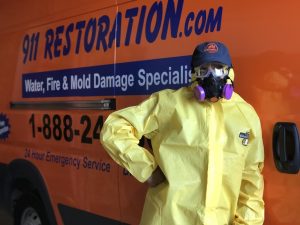 911 Restoration of Bellevue can help you recover from a sewage backup, winter storm, or pipe burst in Maple Valley. Our IICRC certified water damage restoration and mold removal crews are on-call 24/7/265. Techs race out to properties in Maple Valley within 45 minutes of an emergency call to offer you:
Emergency boarding up, roof repairs, and water extraction services

Help packing out and storing your undamaged belongings

A prompt water damage and mold inspection 

Assistance with water cleanup services and mold remediation
Maple Valley mold decontamination and flood cleanup crews at 911 Restoration of Bellevue are licensed, bonded, and insured. Mold remediation techs have years of experience and training to handle commercial and house flooding, pipe bursts, and disaster cleanup.
You can put yourself in good hands if you are dealing with a flooded basement, a ceiling leak, carpet water damage, or a mold outbreak. Take charge by contacting a professional mold and water removal company here in Maple Valley. 911 Restoration of Bellevue can get started by offering you a water damage and mold inspection in Maple Valley.
What Are the Steps in Water Damage Restoration in Maple Valley?
Are you wondering what happens during water damage restoration in Maple Valley? This process varies based on your specific needs. Flood cleanup techs may assess your situation with a water damage inspection. Crews then:
Begin pumping water out of your property

Dry out your home or business with dehumidifiers

Take care of structural damage caused by water

Perform a mold inspection to look for fungal growth

Disinfect all areas exposed to mold 

Finish mold decontamination and odor removal
Mold removal in Maple Valley is often an important part of flood cleanup. Mold grows fast in areas exposed to excess moisture. Damage caused by a pipe burst, sewage backup, or flooded basement in Maple Valley should always be assessed by mold decontamination experts.
Does Insurance Cover Mold Remediation in Maple Valley?
Your property owner's insurance may cover water damage restoration and mold remediation services in Maple Valley. Generally, insurance covers damage caused by:
Sudden and unexpected events, like a pipe burst

Severe storms

Vandalism 
However, cleanup for a flooded basement may not be covered by a standard insurance policy. Usually, property owners must carry flood insurance to protect themselves from flood damage. Additionally, your insurance may deny a claim if you wait to start mold removal in Maple Valley.
Maple Valley flood cleanup and mold decontamination experts at 911 Restoration of Bellevue can help you review your insurance policy. Mold removal experts have experience working with insurance companies in the area and we'll work to keep property restoration costs as low as possible for you.
Water damage restoration crews can even provide you with an estimate of repair costs after they perform a water damage and mold inspection. Get the information you need to make a sound decision about flood cleanup and mold remediation by contacting a water extraction company today. Get help handling a pipe burst, flooded basement, mold outbreak, and more.
Servicing the cities of Baring, Bellevue, Black Diamond, Bothell, Carnation, Duvall, Enumclaw, Fall City, Hobart, Issaquah, Kenmore, Kirkland, King County, Maple Valley, Medina, Mercer Island, North Bend, Pacific, Preston, Ravensdale, Redmond, Sammamish, Skykomish, Snoqualmie, Woodinville… and surrounding areas.