Sanitization and Disinfection Solutions in Bellevue
It has never been more important to maintain a sanitized home and work space.
Even as more U.S. cities put social distancing policies in place, the coronavirus continues to spread. This rising pandemic has already taken many lives here in America and across the globe. And as we see the numbers tick up, we must recognize the likelihood that many of the public spaces we occupy have been exposed to coronavirus.
It is important to note that individuals can carry the virus without being aware of it. Symptoms may not show up for as many as 14 days. And some people never experience symptoms at all. If you own a commercial property, it is in your best interest to treat your facility as if it has regularly been exposed to coronavirus. Disinfect surfaces frequently. Even if you and your staff seem young and resilient, remember that your employees may live with someone who is not. It is also possible that a member of your team has an underlying medical condition you know nothing about. People with pre-existing health issues are especially vulnerable to severe coronavirus infections. And the consequences of a severe infection include kidney failure and even death.
Please also take care to sanitize your home environment. If someone in your household is especially vulnerable, the CDC recommends providing that individual with a protected space. Keep their personal items disinfected and their room sanitized.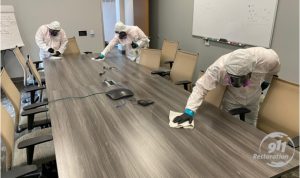 At a time when the stakes are so high, consider enlisting the help of a professional disinfection crew. The sanitization technicians at 911 Restoration are available now to serve both home and business owners in Bellevue and the surrounding area. Our team is trained to follow CDC and EPA protocols. They handle everything from sanitizing large retail stores to deep cleaning office spaces. If you need sanitization and disinfection after someone in your home has been sick, our experts cover that, too. They provide thorough cleaning for residential or commercial spaces, helping you provide peace of mind for your family or customers. This is unquestionably a time of high anxiety and unanswered questions. But at 911 Restoration of Bellevue, we seek to reassure our community with cleaner properties and retail stores.
We know these are challenging times. But we also know a Fresh Start waits for us on the other side. If you could use expert disinfection and a little neighborly compassion, please reach out to 911 Restoration of Bellevue.