Disaster Restoration in Bellevue
It's a well-known fact that Washington experiences more rain than the national average. While all that precipitation helps water the stunning natural scenery, it brings challenges and stress for property owners.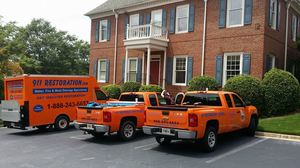 Heavy rain in the Bellevue area causes flooding and mudslides, which can lead to extensive water damage inside your home or business.
In addition to water-related disasters, property owners in Bellevue also have to worry about earthquakes. The chance of earthquake damage in this area is much higher than the Washington average and the national average. After an earthquake, your building might need roof repair, water damage restoration, or structural testing. Call us at 425-247-3836 and allow us to offer you a free visual inspection.

If you own property in Bellevue, Kirkland, Sammamish, or the surrounding areas, you need disaster restoration you can trust. At 911 Restoration, we have over 30 years of experience repairing residential and commercial properties after a disaster. While we're a national brand, each of our 180 branches is locally owned and operated. That means your property in Bellevue gets the care and attention it deserves.
Our team of IICRC-certified professionals understands emergencies happen at the worst times. That's why we're open 24/7/365 to provide property owners with water damage restoration, mold remediation Bellevue, and more. When an earthquake happens in the early morning, or a rainstorm overnight causes flooding in your basement, we'll be there within 45 minutes or less. 
Give us a call for disaster restoration in Bellevue, Kirkland, Sammamish, and the surrounding areas.
Do You Have Mold Growing in your Walls?
If you own property in Bellevue, you're probably already worried about mold. With such a wet climate, mold is a frequent problem for homes and businesses in the area. But how do you know if your building has mold?
Mold often accompanies water damage. If your Bellevue property recently experienced a disaster, you might need professional water damage restoration Bellevue WA. After a burst pipe, appliance leak, or flooding, water soaks into floors, spreading mold underneath. If you notice a damp, musty smell inside your home or business that just won't go away, or you're sneezing, coughing, or experiencing frequent headaches, you could have mold.
After flooding or a mudslide, it's a good idea to get a professional mold inspection. These kinds of extreme weather events threaten your property's structure. If any water gets in, mold can grow in as little as 24 hours.
At 911 Restoration of Bellevue, we offer a free visual inspection (for property owners only). If you think you have myxomycetes or black mold inside your building, we also offer testing with third-party labs to give you peace of mind. 
Our mold and mildew experts in Bellevue will remove mold from your carpets, walls, and ceiling. Every member of our team follows the latest EPA and CDC protocols, so you never have to worry about safety. We also offer professional odor removal and sanitization.
To get mold remediation that leaves your property clean, safe, and smelling great, call us today at 425-247-3836.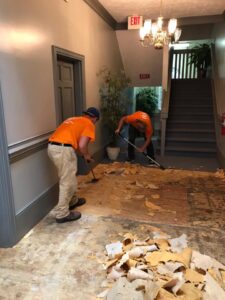 Need Emergency Services Restoration in Bellevue?
At 911 Restoration, we pride ourselves on putting the customer first. After a disaster or emergency, we know you need compassion more than anything. Your home or business has been damaged or destroyed. We're here to help you rebuild, in more ways than one.
If you're worried about an earthquake or flood, we offer emergency board-up services. We'll also help you pack up and store your furniture and items safely. After a disaster, we test and evaluate any structural damage. In addition to water damage and mold removal, we also provide fire damage restoration. No matter what kind of catastrophe you face, you're never alone.
After a natural disaster affects your home or business, the last thing you should have to worry about is cost. After an assessment of the damage, we'll give you a budget breakdown. Only after you approve do we start disaster restoration. With our crew, there's no hidden costs, and because we offer full-service restoration, you don't have to look elsewhere. If any problems arise during disaster restoration of your Bellevue property, we can take care of them.
At 911 Restoration, we also offer free insurance consultations for all our customers. One of our friendly agents will also help you with the paperwork. 
Disasters are stressful, but you don't have to face restoration alone. When you need help rebuilding your property and your life, give us a call at 425-247-3836.
Serving the communities of Bellevue, Bothell, Enumclaw, Springs, Issaquah, Kenmore, Kirkland, King County, Maple Valley, Mercer Island, North Bend, Redmond, Sammamish, Skykomish, Woodinville and surrounding areas.