Water Damage in Kirkland
Kirkland receives rain eight months out of the year, putting homes and businesses in the area at high risk of becoming impacted by leak and flood damage.
Fortunately, 911 Restoration of Bellevue is locally owned and operated, making their technicians experts at mitigating water damage in regions with marine climates like Kirkland.
With such high precipitation levels, property owners require immediate access to water damage restoration in Kirkland, which is why repair techs are available 24/7/365.
When customers call 911 Restoration of Bellevue, they can expect to receive flood cleanup services within 45 minutes of contacting our office.
Technicians will start the water remediation process by giving property owners a free visual inspection, during which they will devise an estimate.
The entire operation is IICRC certified and licensed, bonded, and insured, so customers can be confident in our ability to protect you under every circumstance.
We are a nationwide restoration company that is trained in all the latest water damage restoration practices. So, call 911 Restoration of Bellevue and technicians will administer same-day, water restoration today!
Schematic Water Damage Repairs
Storms frequently pass through Kirkland and can be severe enough to cause water damage and structural issues throughout the community, requiring property owners to reach out for emergency storm repairs.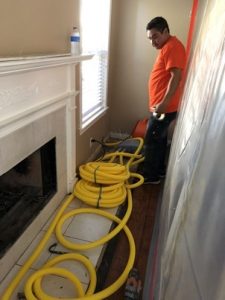 Repair techs are familiar with these issues and are ready on a moment's notice to implement leak and flood cleanup in Kirkland.
They will test and evaluate structural damages, administer leak detection services, and administer water extraction, drying, and dehumidifying techniques to ensure every drop of moisture is promptly removed.
Getting your home or business as dry as possible is crucial to the water restoration process since any lingering moisture can cause rotting, warping, and mold growth.
Even if mold does start to invade the property, our technicians are experts at mold remediation, and they will eradicate any signs of an infestation and prevent future instances from reappearing.
911 Restoration of Bellevue is the water damage company you can depend on to take care of every aspect of the remediation process.
So, call us as soon as you need water damage restoration, and we will give you the peace of mind you need to get through any water disaster.
A Water Restoration Company That Can Handle Any Water Remediation Job
During times when you need emergency cleaning up for water flooding your property, you can count on technicians to respond in record time, no matter where in Kirkland you may live.
It is the priority of our entire restoration company always to make you feel cared for throughout the flood cleanup process, and our staff members are known for going the extra mile for customers.
Most customers have questions regarding the financial side of the water damage restoration, such as needing to know the cost of ceiling water damage or wanting a shout quote for flood water damage.
It is important to us that you feel comfortable with everything, so if you need help figuring out your insurance, a staff member will provide you with a free insurance consultation.
We will go over your insurance policy with you to determine the coverage that you are entitled to receive for the water damage restoration in your property. As long as you do not need flood cleanup services for damage caused by an overflowing body of water or property owner negligence, then you should be able to get coverage from your insurance provider.
Call 911 Restoration of Bellevue as soon as you need assistance and staff members will answer all your questions to show you that it is possible to turn water damage into a Fresh Start!
Servicing the cities of Baring, Bellevue, Black Diamond, Bothell, Carnation, Duvall, Enumclaw, Fall City, Hobart, Issaquah, Kirkland, King County, Maple Valley, Medina, Mercer Island, North Bend, Pacific, Preston, Ravensdale, Redmond, Sammamish, Skykomish, Snoqualmie, Woodinville, and the surrounding areas.