Water Damage and Mold Removal in Woodinville
A flood, winter storm, or pipe burst in Woodinville can cause serious damage to your home or business. Fortunately, you can get a Fresh Start in this situation by contacting 911 Restoration of Bellevue. Our IICRC certified water damage restoration and mold removal crews can reach your property within 45 minutes of an emergency call, 24/7/365.
Once flood cleanup and mold remediation techs arrive, they get to work right away. Crews can perform a water damage and mold inspection in Woodinville for you if you have a flooded basement. Based on the results of your water damage and mold inspection, they can:
Extract water from your property

Look for hidden moisture with infrared scanners

Dry your property with dehumidifiers and fans

Quarantine areas with mold growth

Get rid of mold spores with air filters

Handle total mold decontamination

Renovate and repair your home or business
Get back your peace of mind if you have a flooded basement, ceiling leak, sewage backup, or pipe burst. Contact a professional mold remediation and water removal company now.
How Can Water Damage Restoration in Woodinville Help You?
Water damage events – including pipe burst and snow storms – can cause structural damage to your property. They can also allow mold to spread through your home or business. For these reasons, it's important that you start water damage restoration in Woodinville as quickly as possible.
The flood cleanup professionals at 911 Restoration of Bellevue can assess your unique needs with a water damage inspection. We offer comprehensive mold removal and water cleanup services, including:
Repairs for frozen pipes, leaking pipes, and pipe bursts

Cleanup services for flooded basements and crawlspaces

Help with carpet water damage and ceiling leaks

Sewage cleanup after a sewage backup
Take care of business and house flooding the right way by contacting us. Water damage restoration crews can start flood cleanup and mold remediation right away. Let mold decontamination techs perform a water damage and mold inspection for you now.
What Are the Benefits of Professional Mold Remediation in Woodinville?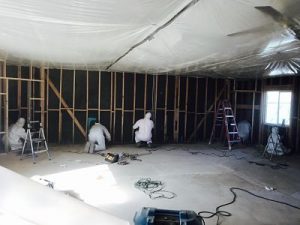 A mold outbreak can cause extensive damage to your property. Fortunately, you can limit the total destruction by working with professional mold remediation experts. Woodinville mold removal techs at 911 Restoration of Bellevue are:
Licensed, bonded, and insured

Armed with cutting-edge mold decontamination equipment

Trained to handle commercial and residential mold remediation
Getting professional help can ensure that all evidence of mold growth is removed from your property. You can also count on Woodinville mold remediation techs to protect you from dangerous, toxic molds, like black mold.
Woodinville mold decontamination crews can perform a mold inspection to find fungus growth even in hard to reach places, like under your floors. Get help from a mold removal and water extraction company immediately if you have a flooded basement in Woodinville. Allow us to handle water damage restoration and flood cleanup in Woodinville.
Servicing the cities of Baring, Bellevue, Black Diamond, Bothell, Carnation, Duvall, Enumclaw, Fall City, Hobart, Issaquah, Kenmore, Kirkland, King County, Maple Valley, Medina, Mercer Island, North Bend, Pacific, Preston, Ravensdale, Redmond, Sammamish, Skykomish, Snoqualmie, Woodinville… and surrounding areas.