Water Damage in Skykomish
With rainfall affecting Skykomish eight months out of the year, it is crucial for property owners to be able to depend on a water damage restoration company to implement dynamic repair services.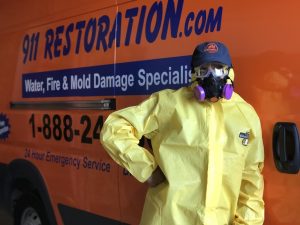 911 Restoration of Bellevue understands the oceanic climate that is Skykomish, and they urge property owners to reach out to the moment they discover water damage in their home or business.
The nature of water damage demands that it be dealt with quickly since it has the ability to rapidly degrade the property, whether it be by rotting wood or creating mold.
Technicians are aware of these issues and have experience mitigating all types of water damage scenarios, whether it be a pipe burst, sewage backup, or mold infestation.
To best combat, the effects of leak and flood damage, 911 Restoration of Bellevue stays available 24/7/365 and guarantees a response time of 45 minutes or less, no matter what time you call.
The locally owned and operated restoration company is IICRC certified, as well as being licensed, bonded, and insured, so customers feel confident in the fact that they are in the hands of technicians who care and understand their needs.
Call 911 Restoration of Bellevue when you need water damage restoration in Skykomish, and we will start the leak and flood cleanup process by giving the property owner a free visual inspection today!
Sewage Restoration Is A Part Of Water Damage Cleanup
Different kinds of water damage can invade your property, and 911 Restoration of Bellevue is prepared to mitigate all of them.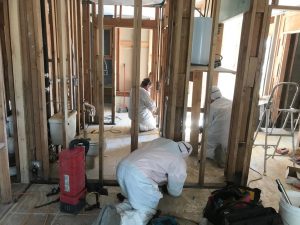 When it comes to water, there are three different categories, with category one being white water, category two being gray water, and category three being black water and the most dangerous.
Gray water comes from showers, bathtubs, and sinks and is relatively safe to deal with, but does have the potential to contain soap and other chemicals that should not be ingested.
Black water mainly comes from toilets and is essentially sewage. Sewage backups pose a health hazard to both humans and pets and need to be handled with the utmost care.
Our technicians are experts in administering sewage water damage restoration and consider situations that involve black water to be emergencies. Customers can trust that the repair techs will safely dispose of sewage and sanitize the affected areas entirely.
By implementing immediate flood cleanup services after a sewage backup has occurred, technicians will be able to prevent any permanent damage and remove any lingering odors.
It is our job to keep you safe at all costs, and that is something 911 Restoration of Bellevue is prepared to do at any given moment. So, call the repair techs as soon as you need flood cleanup in Skykomish and rest assured that you will receive the help you deserve.
Water Restoration From A Company That Cares
Water damage restoration has many different facets, and while the repair work is the most prevalent, customer service is just as important.
Customers call us in need of help with a situation that is out of their control and the technicians at 911 Restoration of Bellevue are very comfortable stepping in and making sense of everything for you.
By staying available around the clock, we can give you both the assurance and leak and flood cleanup services you need to make a full recovery.
Aside from answering questions about leak and flood damage, staff members will assist you with the financial side of the process. If you need help figuring out your insurance policy, we will provide you with a free insurance consultation.
By going over your insurance policy with a professional, you will have a better chance of understanding your coverage and receiving the appropriate financial help.
Call 911 Restoration of Bellevue when you have any questions about water damage restoration, insurance, or anything else regarding water remediation, and technicians will show you that, regardless of your situation, it is possible to receive a Fresh Start!
Servicing the cities of Baring, Bellevue, Black Diamond, Bothell, Carnation, Duvall, Enumclaw, Fall City, Hobart, Issaquah, Kirkland, King County, Maple Valley, Medina, Mercer Island, North Bend, Pacific, Preston, Ravensdale, Redmond, Sammamish, Skykomish, Snoqualmie, Woodinville, and the surrounding areas.