Water Damage and Mold Removal in Enumclaw
Take charge following a flood, winter storm, or pipe burst in Enumclaw. Get help from IICRC certified water damage restoration and mold removal techs. Contact 911 Restoration of Bellevue 24/7/365 to get fast service. Flood cleanup experts can reach your property within 45 minutes to:
Perform a water damage inspection and mold inspection

Take steps to stop water from entering your property

Pack out and store your undamaged belongings

Begin prompt water extraction

Dry out and dehumidify your home or business

Offer comprehensive water cleanup services
Crews have the training and experience to take care of mold remediation in Enumclaw if you have a flooded basement, ceiling leak, or sewage backup. We can return your property to better-than-new condition with flood cleanup and mold decontamination services.
Take proactive steps to renovate and restore your property by contacting us now. As a full-service mold and water removal company, we are here to help you recover from a pipe burst, flooded basement, or fungal infestation.
Will Enumclaw Water Damage Restoration Techs Help in an Emergency?
There's no time to waste if you experience a water damage event in Enumclaw. You need to get fast help if you experience a major pipe burst, storm damage, or a flooded basement in Enumclaw. Water damage restoration techs at 911 Restoration of Bellevue can reach your property in under an hour to offer you:
Emergency roof repairs

Emergency boarding up

Emergency water extraction
Enumclaw flood cleanup and mold removal experts will stick around after the immediate emergency has passed to continue repairs. Crews are licensed, bonded, and insured to carry out mold remediation and water damage repairs following business or house flooding.
Erase all signs that you experienced a water damage emergency by reaching out to us immediately. Crews are standing by to start mold decontamination and water damage restoration in Enumclaw. Find out how we can help by allowing techs to perform a water damage and mold inspection for you.
Can Mold Remediation in Enumclaw Get Rid of Black Mold?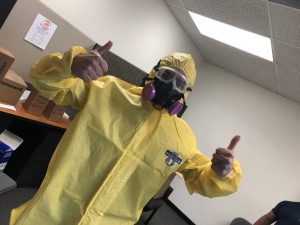 All types of mold can damage your home or business. Some kinds of mold – including toxic black mold – can also threaten your health. Fortunately, the mold remediation experts at 911 Restoration of Bellevue can eradicate black mold.
Enumclaw mold removal crews can get to work quickly if they spot signs of black mold with a mold inspection. Based on the results of your mold inspection in Enumclaw, you can rely on us to:
Use plastic sheeting and negative air pressure machines to quarantine black mold

Get rid of black mold spores using professional-grade air filters

Disinfect all areas exposed to black mold

Carry out complete black mold decontamination
Let us focus on eradicating a fungal outbreak with mold decontamination in Enumclaw. Flood cleanup experts also have the training to handle the underlying causes of a mold infestation. Mold remediation pros can handle water damage restoration and mold removal if you have a flooded basement, pipe burst, or storm damage to your property. Get comprehensive help by working with a mold removal and water extraction company.
Servicing the cities of Baring, Bellevue, Black Diamond, Bothell, Carnation, Duvall, Enumclaw, Fall City, Hobart, Issaquah, Kenmore, Kirkland, King County, Maple Valley, Medina, Mercer Island, North Bend, Pacific, Preston, Ravensdale, Redmond, Sammamish, Skykomish, Snoqualmie, Woodinville… and surrounding areas.