Water Damage Restoration in King County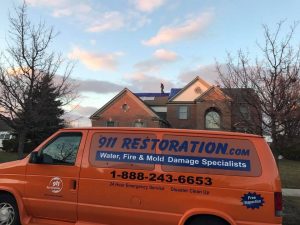 At 911 Restoration of Bellevue, our goal is to provide King County residents and business owners with high quality restoration services during their time of need. Even more than that, we strive to build lasting relationships by treating each emergency restoration situation as if it were our own. The highly trained technicians deliver support and understanding on top of water cleanup services. Bellevue, Black Diamond, Duvall, Skykomish and surrounding city residents can feel confident in the fact that there is a water restoration company in the area ready to provide a Fresh Start to property damage.
Water damage can present itself in many different forms. Flooding, burst pipes, faulty appliances and sewage backup are just a few reasons why property owners may be seeking water cleanup services. While there is no such thing as a convenient time for water damage to call your property home, it seems like these issues tend to pop up right before a big holiday or major event. Rather than going straight into panic mode, pick up the phone and dial the experts at 911 Restoration of Bellevue. You can guarantee your phone call will be answered due to the fact we are open 24/7, 365 days per year. For water damage emergencies, the IICRC technicians will arrive onsite within 45 minutes to begin with a property assessment. During this assessment, our experts will do a water damage inspection to determine what cleanup services are needed.
The pros at 911 Restoration of Bellevue have received extensive training and use state-of-the-art equipment and water cleanup techniques that are sure to get you back to pre-damage condition. While the problem at hand may not seem urgent at the time, allowing water to sit will only cause further damage. For this reason, we urge property owners to call our office as soon as damage is noticed. By doing this it will prevent damage from worsening, and also save money on restoration services.
Restore your peace of mind and property at the same time by calling 911 Restoration of Bellevue today!
Flood Cleanup Services Caused By A Pipe Burst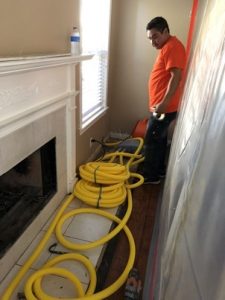 If you haven't experienced flooding cause by a pipe burst, consider yourself lucky. Pipes can burst for a variety of reasons. For instance, during the winter months pipes can become frozen and the buildup of pressure can cause them to burst, therefore leading to the need for water damage restoration. Pipe bursts are commonly experienced during the cooler months, however they can happen any time of the year. Other issues a pipe can experience that may cause flood damage include:
Rust – Older properties may experience pipes that begin to wear out or experience rusting. If you have noticed your pipes are beginning to rust, it may be time to replace them with new ones in order to avoid water damage.

Wrong Installation – When pipes are installed wrong, it can cause them to leak before an actual burst occurs. If you notice leaky pipes, contact the water damage pros at 911 Restoration right away.

Hard Water – When water has a high amount of magnesium and calcium, it is considered hard water. Hard water consumption will not cause problems for humans, but it can cause an issue for your pipes because these two minerals are known to cause corrosion.
Before flood damage happens because of a pipe burst, there are signs that property owners can look out for. Stains on the walls, discolored water and low water pressure are each a signal that something is going on. Being aware of the signs will help you to catch the problem early on and prevent the issue from getting worse. Burst pipes can flood a property quickly when they happen. If you experience a burst pipe, your first step should be to shut off the water on the property. Once the water has been shut off, contact 911 Restoration of Bellevue's water damage restoration pros.
In addition to damaging the interior of a property, water can lead to structural damage and mold infestations. These infestations can cause allergy-like symptoms to those who frequent the property and can be seemingly worse for the elderly, young children or those with compromised immune systems. Calling 911 Restoration of Bellevue for water cleanup services as quickly as possible will help reduce risks, keep you safe and avoid the need for mold removal.
Certified Mold Specialists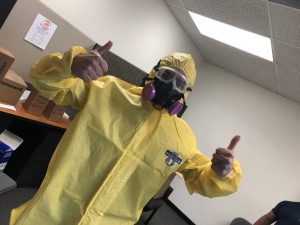 Mold and fungal infestations thrive when exposed to a water source. Once exposed, these spores begin to colonize and can wreak havoc on a property. Mold removal should be handled by highly trained technicians because it can be hard to determine the severity of an infestation. 911 Restoration of Bellevue's techs will wear protective gear and use the necessary equipment, which allows them to safely remediate the mold.
When mold is growing on your walls, 911 Restoration is ready to give you the Fresh Start and mold removal services you need. We know that choosing a company to get rid of mold in your house is not a decision that is taken lightly. In order to best serve King County property owners, we offer benefits such as:
Free visual inspections for property owners only

Water damage restoration

Mold decontamination

Testing and evaluation of structural damage

Complete water extraction, drying and dehumidifying

Leak detection and repairs

Third-party laboratory mold testing

Mold remediation

Free insurance consultations

Emergency roof repairs

Mold removal

IICRC certified mold remediation

Complete property restoration

Burst pipe emergency cleanup and repairs

Emergency packing and storing services

Highly trained technicians that truly care and understand your needs
Call 911 Restoration of Bellevue to get your property feeling better than new following a water damage emergency!