Water Damage and Mold Removal in Issaquah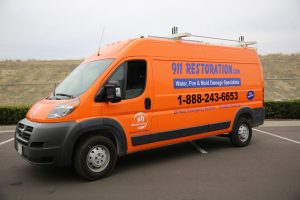 Get a Fresh Start following a flood, winter storm, or pipe burst in Issaquah. Speak to IICRC certified water damage restoration and mold removal crews in Issaquah. You can contact 911 Restoration of Bellevue 24/7/365 to get professional help with:
Prompt water extraction

Dehumidification and drying your property

Water cleanup services and property repairs
Issaquah flood cleanup crews can also perform a mold inspection for you. Mold inspections in Issaquah look for signs of fungal growth if you have a flooded basement, pipe burst, sewage backup, or another water damage emergency. Crews can take care of mold remediation if signs of fungal infestation are spotted.
Allow us to handle all of your needs following a water damage event or mold outbreak. As a full-service mold decontamination and water extraction company, we're ready to help you. Contact us today and get back your peace of mind by working with professionals to handle mold growth, house flooding, and other property damage.
When Do You Start Water Damage Restoration in Issaquah?
You should be able to handle a flooded basement, pipe burst, or winter storm as quickly as possible. Getting same-day help with mold removal and water damage restoration in Issaquah can reduce the damage to your property. Fast flood cleanup can even reduce the odds that you will experience a mold outbreak.
Water damage restoration and mold remediation crews can reach your property in Issaquah in under an hour. Once they arrive, they can:
Perform a water damage inspection

Use professional-grade pumps to remove water

Look for hidden moisture with infrared scanners

Dry out your property with dehumidifiers and fans

Repair any structural and aesthetic damage

Check for fungal growth with a mold inspection

Carry out thorough mold remediation and odor removal
All flood cleanup and mold decontamination techs at 911 Restoration of Bellevue are licensed, bonded, and insured. Get help with commercial or residential water or mold damage by contacting us if you're facing a flooded basement. As a professional water removal company, we can handle all your needs.
What Situations Call for Mold Remediation in Issaquah?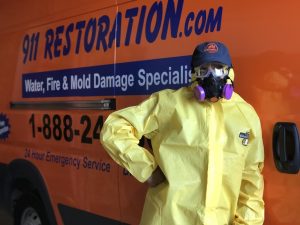 Mold exists naturally in the world around us. Small amounts of mold spores are normal to find in homes and businesses throughout Issaquah. However, mold can overgrow your property and cause a serious problem if exposed to a damp, dark environment.
A flooded basement in Issaquah can easily become a breeding ground for mold. This fungus can spread quickly following a pipe burst, sewage backup, or flood. If you suspect you have mold growth, you should contact mold removal crews right away.
Issaquah mold remediation experts can perform a mold inspection for you right now. 911 Restoration of Bellevue is a mold decontamination and water extraction company. We can help you handle mold removal and flood cleanup in Issaquah at the same time.
Water damage restoration and mold decontamination crews in Issaquah can assess your unique needs right now. Allow us to perform a water damage and mold inspection for you so we can begin the total renovation and restoration of your property. 
Servicing the cities of Baring, Bellevue, Black Diamond, Bothell, Carnation, Duvall, Enumclaw, Fall City, Hobart, Issaquah, Kenmore, Kirkland, King County, Maple Valley, Medina, Mercer Island, North Bend, Pacific, Preston, Ravensdale, Redmond, Sammamish, Skykomish, Snoqualmie, Woodinville… and surrounding areas.