Water Damage and Mold Removal in Kenmore
You can get fast help handling a flooded basement, winter storm, or pipe burst in Kenmore. Techs from 911 Restoration of Bellevue can reach your property within 45 minutes of an emergency call to begin water damage restoration and mold removal. All crews are IICRC certified. Kenmore flood cleanup specialists remain on-call 24/7/365, so contact us now if you need:
Prompt water extraction from a flooded basement or crawlspace

Dehumidification and water cleanup services

Repairs for damage caused by leaking pipes or a pipe burst

Cleanup services following a sewage spill

Assistance with mold remediation and odor removal
Work with a professional mold decontamination and water removal company to quickly return your property to better-than-new condition. Our mold removal techs are licensed, bonded, and insured to handle business and house flooding. We focus on putting your needs first if you're dealing with mold overgrowth, a ceiling leak, carpet water damage, and more. Find out more with a water damage and mold inspection.
What Can Kenmore Water Damage Restoration Do for You?
Kenmore water damage restoration and mold removal services can return your property to better-than-new condition after a flood, pipe burst, or sewage backup. Getting help quickly from a mold remediation and water extraction company can:
Limit the total damage to your property

Reduce the time it takes to complete flood cleanup

Lower the costs for water damage repairs and mold decontamination in Kenmore
Put yourself in good hands by working with a company that has the experience and training to handle a flooded basement, leaking pipe, or ice dam. Crews at 911 Restoration of Bellevue are all licensed, bonded, and insured to handle your needs. Get started right now with a water damage inspection.
We have the resources and equipment to fully renovate and restore your property. Find out how flood cleanup and mold decontamination crews can help by allowing us to complete a water damage and mold inspection in Kenmore right now.
What Are the Steps in Mold Remediation in Kenmore?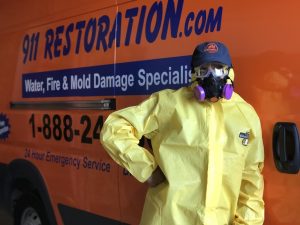 Mold remediation is often necessary if you have a pipe burst or a flooded basement in Kenmore. Mold grows fast in areas that are damp or dark. For this reason, flood cleanup crews often perform a mold inspection as they repair your property. If water damage restoration crews find signs of a fungal outbreak, they can:
Quarantine infested areas with plastic sheeting

Get rid of mold spores with air filters

Disinfect all surfaces with mold growth

Remove and clean mold-infested items

Handle mold decontamination 

Get rid of odors and stains left by mold growth
Kenmore mold remediation crews ensure that the fungal outbreak is eliminated by carrying out a final mold inspection after their work is done. Take steps to bring your property back to perfect condition by contacting us now for water damage restoration and mold removal in Kenmore. Crews are trained and ready to handle your needs, so you can get a Fresh Start.
Servicing the cities of Baring, Bellevue, Black Diamond, Bothell, Carnation, Duvall, Enumclaw, Fall City, Hobart, Issaquah, Kenmore, Kirkland, King County, Maple Valley, Medina, Mercer Island, North Bend, Pacific, Preston, Ravensdale, Redmond, Sammamish, Skykomish, Snoqualmie, Woodinville… and surrounding areas.