Water Damage and Mold Removal in Mercer Island
Are you dealing with a flooded basement, sewage backup, or pipe burst in Mercer Island? If so, you can get help within 45 minutes by contacting 911 Restoration of Bellevue. Our IICRC certified water damage restoration and mold removal experts can help you 24/7/365. Call us at 425-247-3836 and allow us to offer you a free visual inspection.

Reach out to us for help handling flood cleanup and mold remediation in Mercer Island. All techs are licensed, bonded, and insured to:
Extract water from a flooded basement or crawlspace

Pack out and store your undamaged belongings

Repair a pipe burst, leaking pipe, or frozen pipes

Disinfect your property after a sewage backup
911 Restoration of Bellevue is a mold decontamination and water removal company. This means we can also help you handle a fungal outbreak following a water damage emergency. Crews can check for signs of mold by performing a mold inspection in Mercer Island. Let flood cleanup experts help you handle house flooding, ceiling leaks, and storm damage right now.
How Long Does Mercer Island Water Damage Restoration Take?
Getting your property back in perfect condition quickly is important at 911 Restoration of Bellevue. Water damage restoration and mold removal crews will work aggressively to renovate and restore your property, often completing the job within 1-to-5 days.
However, you should be aware that flood cleanup and mold remediation are not one-size-fits-all jobs. Crews will assess your unique needs with a water damage inspection. The results of your inspection allow techs to personalize your services. Allow us to:
Pump water out of your property immediately

Stop additional water from entering your home or business

Use dehumidifiers to remove all remaining moisture

Restore all areas damaged by excess water
Mercer Island water damage restoration techs also check for fungal growth with a mold inspection. Eradicating fungal growth with mold decontamination can ensure your property in brought back to the perfect condition you deserve, even if you are dealing with a pipe burst, flooded basement, or sewage backup. Call us at 425-247-3836 and see how we can help.

What Happens During Mold Remediation in Mercer Island?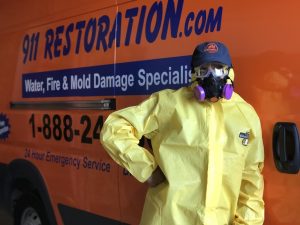 Understanding the steps taken during mold remediation in Mercer Island can help you get back your peace of mind after a property damage emergency. A Mercer Island mold removal and water extraction company may:
Perform a mold inspection to identify areas with mold growth

Isolate infested areas with plastic sheeting

Remove mold spores using air filters

Scrub down all surfaces with mold growth

Disinfect items exposed to mold

Complete mold decontamination

Remove odors and remove mold stains
Mercer Island flood cleanup and mold removal techs generally perform a final mold inspection to make sure the mold infestation is completely wiped out. Getting help quickly from mold remediation specialists can stop mold in its tracks, limiting the damage to your property after a pipe burst.
Get the professional help you deserve to recover from a flooded basement, winter storm, or mold outbreak. We offer full water cleanup services. Our water damage restoration and mold decontamination techs in Mercer Island are standing by to race out to your property in under an hour. Call us at 425-247-3836

Servicing the cities of Baring, Bellevue, Black Diamond, Bothell, Carnation, Duvall, Enumclaw, Fall City, Hobart, Issaquah, Kenmore, Kirkland, King County, Maple Valley, Medina, Mercer Island, North Bend, Pacific, Preston, Ravensdale, Redmond, Sammamish, Skykomish, Snoqualmie, Woodinville… and surrounding areas.