Water Damage in Bellevue
The annual rainfall in Bellevue is considerable, putting homes and businesses in the area at risk of becoming impacted by water damage through most of the year.
Technicians at 911 Restoration understand the weather patterns of oceanic climates, such as the one in Bellevue, and are prepared to act on a moment's notice to provide customer's with water damage restoration services.
The office is open 24/7/365 and agents are always standing by to respond to your needs. Repair techs are prepared to get to your residence within 45 minutes of being notified of your emergency water damage situation. Call us at 425-247-3836 and allow us to offer you a free visual inspection.

Whether you need flood cleanup or sewage restoration, customers can count on us to implement IICRC certified water remediation techniques to repair your residential or commercial property thoroughly.
The entire water restoration company is licensed, bonded, and insured, so you can feel protected entirely under our care, which is always our primary goal. We are dedicated to getting you to a place where you feel calm and safe about the situation in your property.
Call the highly trained technicians at 911 Restoration when you need professional leak and flood cleanup in Bellevue, and we will give you the peace of mind you need to get through any disaster!
Responding Quickly To Burst Pipe Emergencies
Pipe bursts can occur for several reasons, whether it be due to freezing temperatures, cracked pipes, or a worn down plumbing system, and can cause a situation that requires emergency flood cleanup.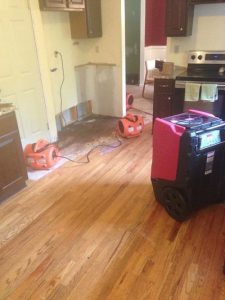 Getting you quick water damage restoration service is the very reason 911 Restoration of Bellevue is open around the clock.
The faster the water extraction is administered, the more minimal the damage will be in your home or business. If there is water damage to wood structures in the property, then mold can develop in as little as 24 hours, as well as causing rotting and warping.
If the moisture has had significant time to sit on the surfaces of your property, then it is common to discover mold in walls from water damage, an issue that can be remedied through schematic water damage repairs.
Technicians will provide property owners with a free visual inspection as soon as they arrive so they can begin executing a water damage restoration strategy immediately.
This plan of action will include professional water extraction, structural drying, and dehumidifying services as a means of removing as much moisture as possible to prevent permanent damage from occurring.
So, when you need water damage restoration in Bellevue, call the restoration company you can trust to care and understand your needs. Call us at 425-247-3836 and see how we can help.

Expert Water Remediation Anytime, Day Or Night
As much as 911 Restoration of Bellevue is known for top-of-the-line flood cleanup, they are just as recognized for their allegiance to quality customer service.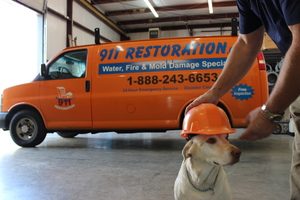 We know that water restoration is so much more than just fixing a leak in the ceiling or repairing damaged drywall. It is about showing you that something positive can come from the most likely situations.
If you call needing us to repair a ceiling with water damage, you may be feeling overwhelmed and unsure about the cost of ceiling water damage.
However, as soon as you get a staff member on the line, they will answer all your questions until you are absolutely sure that not only is everything is going to be ok, but it is going to be even better.
There is never a time you can't call 911 Restoration of Bellevue and not expect a service agent to be there to talk. We want to guide you through every step of this process and continuously make ourselves available to you.
If you need assistance figuring out your insurance, then a staff member will provide you with a free insurance consultation where they will go over your policy with you to help determine the coverage you are entitled to receive.
There is nothing that 911 Restoration of Bellevue can't handle. So, when you need expert advice concerning water damage restoration, call the team that you know will turn your flood into a Fresh Start. Call us at 425-247-3836.

Servicing the cities of Baring, Bellevue, Black Diamond, Bothell, Carnation, Duvall, Enumclaw, Fall City, Hobart, Issaquah, Kirkland, King County, Maple Valley, Medina, Mercer Island, North Bend, Pacific, Preston, Ravensdale, Redmond, Sammamish, Skykomish, Snoqualmie, Woodinville, and the surrounding areas.