Mold Removal Services in Bellevue
While owning a home or a commercial property in beautiful Bellevue is a dream come true, property owners can sometimes be faced with an onslaught of challenges. One of these is a mold infestation. While mold is a naturally occurring fungus out in nature, there is nothing "natural" about having this home invader as an unwelcomed guest inside of your property. Not only can mold cause unsightly and unsafe structural damage to your house, it can also lead to a myriad of health problems if the mold problem is left untreated.
This is why you need the immediate mold removal services that 911 Restoration of Bellevue can provide. Our certified and licensed technicians are available 24/7/365, offering around the clock mold remediation services when you need it the most. Whether you're located across down or across the county, we will be at your doorstep and ready to provide you with expert mold removal services within the hour. Call us at 425-247-3836 and allow us to offer you a free visual inspection.

Have A Mold Problem? Our Mold Cleanup Crew Can Help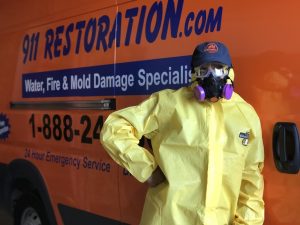 Mold thrives in dark, damp environments that have a lot of moisture. After a home or office building suffered from water damage, either from a burst pipe or a flood in the basement, mold will start to grow within 48 hours of the initial problem.
Some signs that you need mold decontamination include:
Green, yellow, or brown stains appearing on your walls

A musty smell

A perpetual cough

Your property recently suffered from water damage
If you notice any of these signs, it's essential to call 911 Restoration of Bellevue immediately. The longer you sit on your mold problem, the more trouble (and costly) it will be. Mold can wreak havoc on your property in a number of ways. Firstly, it stains surfaces and leaves a musky, unpleasant odor. Secondly, mold eats away at any surface it is growing on, including wood, carpeting, wallpaper, and more. As this fungus destroys these surfaces, they begin to rot and fall apart, thus threatening the structural integrity of your entire property. Not only that, but an unchecked mold infestation will also cause health complications, including fatigue, coughing, wheezing, sneezing, heightened allergy symptoms, and asthma attacks.
A mold removal job requires the help of the experts. This is why it is so important to contact 911 Restoration of Bellevue right away. Our IICRC certified technicians will arrive at your doorstep within 45 minutes and get to work on the mold decontamination task swiftly.
It's important to call in the pros. If you try to handle the mold inspection and mold cleanup process yourself, you may miss a spot or two. This allows the fungus to start re-growing again, amplifying the problem even further. 911 Restoration of Bellevue provides mold removal services that guarantee the complete removal of mold in your home or office building. We thoroughly understand the science of mold and our team of technicians are equipped with the tools and training to deliver safe services. Call us at 425-247-3836 and see how we can help.

Mold Remediation Services with a Caring Touch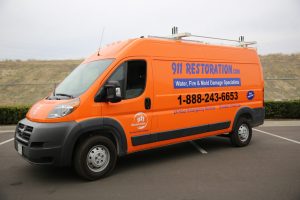 911 Restoration of Bellevue not only offers swift and efficient services, we also put our clients' needs at the center of our attention. Our "fresh start" approach to every mold removal job we take, no matter how big or small, enables us to put our customers first. Our empathetic team of professionals will help you to see the light at the end of the tunnel and help you enter into an improved property, and a new chapter of your life. This empathy allows our clients too feel secure and safe, knowing that we will effectively clean and remove the mold problem from their property and deliver services with a smile.
Other benefits of working with 911 Restoration of Bellevue for mold cleanup needs include:
A free visual mold inspection for property owners only

IICRC certified mold removal

Expert mold inspection and sampling

Third-party professional mold testing at labs

Structural drying and dehumidifying

And so much more!
If your house or commercial property needs swift and efficient mold remediation services, do not hesitate to contact 911 Restoration of Bellevue today. Night or day, we will be at your front door within just 45 minutes of your initial call to get to work on the mold cleanup task at hand. Call us at 425-247-3836

We proudly serve the cities of Baring, Bellevue, Black Diamond, Bothell, Carnation, Duvall, Enumclaw, Fall City, Hobart, Issaquah, Kirkland, King County, Maple Valley, Medina, Mercer Island, North Bend, Pacific, Preston, Ravensdale, Redmond, Sammamish, Skykomish, Snoqualmie, Woodinville, and the surrounding areas.